RetiredAndTravelling has been featured in online media outlets spreading our travels to a broader audience.
Boomer Bloggers To Follow !!   👍🏻 👍🏻  👍🏻
We were so excited to be named as one of the top Boomer Bloggers to follow in an article written by Vanessa Divers.
     8 Boomer Travel Blogs You Should Be Following
10 Travel Blogs You Should Follow !!   👍🏻 👍🏻  👍🏻
We were so delighted to be in the list of travel blogs selected by TheRetirementRecipe!
     10 Travel Blogs You Should Read Right Now
Top 60 Canadian Bloggers !!  👍🏻 👍🏻  👍🏻
Happy to be in the list of the top Canadian bloggers.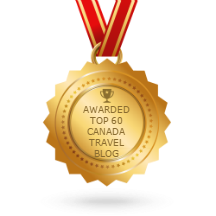 ---
Travel Blogs For TravelAlerts Travel Publications
Travel Alerts, a Metroland Media company, features RetiredAndTravelling posts regularly on direct mail campaigns, seen by 500,000 people weekly and on its popular Facebook page. As well, RetiredAndTravelling is a regular contributor to the TravelAlerts blog.
In case you missed our blogs on TravelAlerts.ca …
General:
Are You Ready For An Around the World Cruise?
Animal Encounters Around The World
Caribbean:
7 Things To Consider for Caribbean Cruising
North America:
Lots to See and Do In New Orleans … In Addition to Mardi Gras
A North America West Coast Itinerary
In Albuquerque, New Mexico – Hot Air Balloons and More    
Canada 150 – Start Your Celebration in Ottawa
🆕  Planning For An Alaskan Cruise
Europe And The Middle East:
Travelling in Italy – Off The Beaten Path
You Will Never Forget The Amalfi Coast
You Will Fall In Love with Spain
5 Reasons To Visit The Canary Islands
Africa and the Middle East:
Middle East Travel – Israel, Egypt and Jordon
---
Other Blogs We have Been Mentioned In:
DestinationBC  (Twitter @hellobc) featured our whale watching pictures in their BC whale watching blog:
LeggingIt (Twitter @Leggingitau ) shared our New Orleans cemetery blog:
http://www.leggingit.com.au/interesting-cemeteries-part-ten/
Sarah and Tom at TripGourmets shared their love of Porto and included a link to our Douro Valley blog:
Three days in Porto – Port wine paradise at the mouth of the Douro
SaveSave
SaveSave
SaveSave
SaveSave
SaveSave