A Day Trip To Trinity And Bonavista
On a sunny day in Newfoundland, we did a great day trip to Trinity and Bonavista. We had a perfect day on this scenic peninsula.
One of our blog readers suggested we visit Trinity and Bonavista on our trip to Newfoundland. On our transit day from Grand Falls Windsor to St. John's, we passed right by the road that went out along the Bonavista peninsula. But the weather was grey and we did not want to add the 6 or more hours to our transit day to detour.
When we settled into St. John's for 4 days we watched the weather forecast. And on the best day of our visit, we backtracked for a day trip to Trinity and Bonavista. And we were so glad we did!
Arriving In Trinity
We took the Trans-Canada Highway #1 out of St John's. It was about 2 hours before we hit the exit for the Discovery Trail (Route 230). Route 230 went all the way to Bonavista. Along the way various roads split off to different bays. We exited at the turn for Trinity about an hour later.
As we approached Trinity, we saw a series of floats in the water. A little research told us these were oyster farms.
Our first view of the charming village of Trinity came from the hill high above the town. We saw our first colourful houses. The fog rolled out on the shore. And far off in the distance the lighthouse stood at the harbour entrance.
We meandered along the streets in the town and went up the hill to the Sweet Rock Ice Cream shop on High Street. The shop was closed. But the colourful chairs provided us with a wonderful view down over the town.
We knew we wanted to get closer to this cute town.
Wandering In The Charming Town Of Trinity

We drove back down the hill and along the small streets. There was much to see along the way. Across the harbour we got a better view of the lighthouse. There were signs around town for walking tours. And we saw the colourful Mirabella Artisan Gift Shop.
When we found Aunt Sarah's Chocolate Shop, we parked the car. No road trip was complete without at least one chocolate shop stop!
The Dock Marina Restaurant had a large outside patio. We picked up coffees and settled in and just looked out over the harbour. It was a beautiful day to enjoy the views.
We were delighted with our quick stop in Trinity. This was the charming small colourful town we set off to discover. We were sure there was much to enjoy on a longer stay.
Visiting The Town Of Bonavista
When we headed off for our day trip to Trinity and Bonavista, we were not sure what we would find at Bonavista other than the lighthouse. So when we came down the hill and saw a large town, we were pleasantly surprised. Bonavista was the first spot discovered in Canada (and maybe in North America). John Cabot landed at this point in 1497.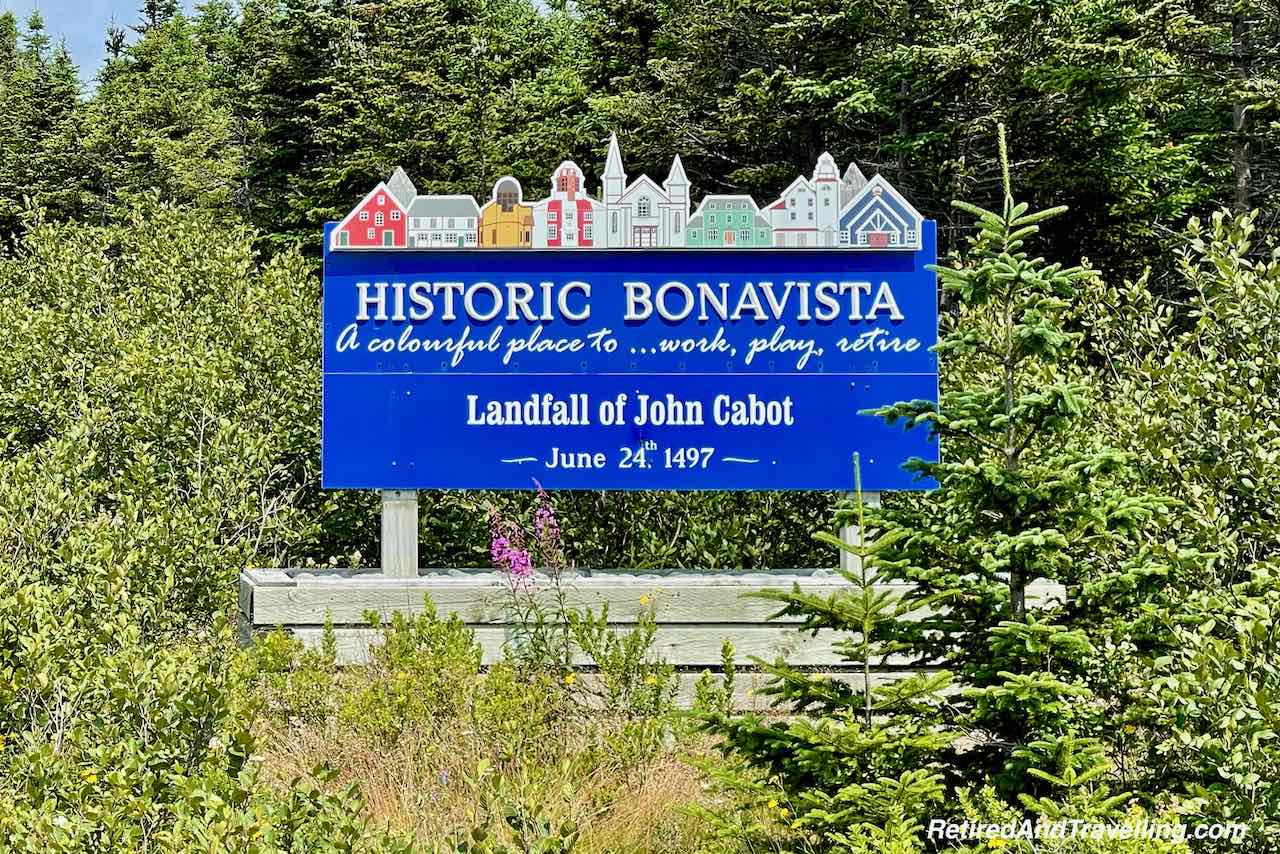 As we generally did in a new water town, we headed first for the waterfront. We saw the colourful boats in the harbour. And then we followed the shore road in search of the colourful matching houses.
With so many fishing boats, we knew there should be fresh seafood for lunch. When we passed the Foggy Shoals Fish Co., we really wanted fresh scallops for lunch. Sadly this shop was not yet open.
But our craving for seafood did not wane. As we headed out of town, we were drawn in by the busy parking lot at the Little Dairy King. We found a full cafe with an outside patio and an ice cream shop. And the menu met our seafood needs!
On a day trip to Trinity and Bonavista in Newfoundland, we were captivated by the traditional Newfoundland delights.
Heading Out To Cape Bonavista
We kept along the shore road until we hit Cape Bonavista. The lighthouse stood on the edge of the rock outcropping and guided the ships around the point.
We headed off over the mossy rocks and explored the rocky shoreline. We got our first close up view of the rocky shores of Newfoundland when we went whale watching in Bay Bulls. But we were like billy goats as we climbed up out over the rocks. The views out to sea over the rocks were stunning.
But rocks were not all we found when we looked out to sea. We soon discovered that one of the rocks was the launching point for puffins. A whale watching boat approached. And when we looked out, we saw whales on the horizon as they played in the sea. Catching puffins and whales in Newfoundland never ceased to delight us. It was just one more reason we were happy we planned a day trip to Trinity and Bonavista.
As we left Cape Bonavista we made one last stop at the statue of John Cabot. Such a fascinating spot for the first landfall in Canada.
On the trip back, we stayed on Route 235 around the northern shore of the peninsula. We got more views of stunning coastlines and small towns before we re-joined Route 230 and headed back to St. John's. It was a wonderful day trip to Trinity and Bonavista in Newfoundland.
Every Kind Of Weather On A Day Trip To Trinity And Bonavista
In late July we found the weather in Newfoundland unpredictable. When the forecast for Bonavista looked the best on our 4 day stay in St. John's, we planned our day trip to Trinity and Bonavista. We were excited when we saw the sun as we woke in St. John's. Every other day, the skies in St. John's only cleared late in the afternoon.
But the drive to Bonavista took us up through the neck of Newfoundland. The elevations went high and then dropped back down along the road. On our drive there, we hit blinding rain for about 100 km. And then we drove right out into sunshine. On the return trip to St. John's, we hit fog in this same stretch of road that was so thick we barely saw the cars in front of us.
So it was wonderful when we arrived in Trinity as the fog lifted. And by the time we got to Bonavista, the sun was fully out. On our return, once we passed the fog, we even drove up to Signal Hill and the Cabot Tower for a beautiful sunset over St. John's.
When you plan a day trip to Trinity and Bonavista, you may find all kinds of weather. We were happy the bad weather passed and we got a bright sunny day!
So Happy We Planned A Day Trip To Trinity And Bonavista
We had much planned for our 4 days in St John's. There was much to see in town and on short day trips. But we were glad we planned a much longer day trip to Trinity and Bonavista.
On a return trip to Newfoundland, we will plan to spend more time in the small communities like Trinity and Bonavista. But Trinity and Bonavista was one of the highlights of our summer road trip to Eastern Canada.
Did you do a day trip to Trinity and Bonavista? Did you have a favourite spot on your visit?
Copyright Notice: All material on this travel blog site is the sole property of RetiredAndTravelling.  This includes blog posts, pages, design and all photos (whether watermarked or not). Any use of materials from this site without express written consent will be considered copyright infringement.