Much To Do On 4 Days In St John's Newfoundland
We found so much to do on 4 days in St John's in Newfoundland on our road trip to Eastern Canada. Our hotel was located close to the main harbour and we wandered from there and explored the sights in the city. It was great to head high to Signal Hill for a view out over the city.
We were excited to finally see the colourful houses of St. John's. They were sometimes referred to as the Jelly Bean houses. So many of the houses and buildings we found were artfully decorated and colourful. This was matched only by the street art we found.
We had fun day trips from St. John's. A short drive took us to the most easterly point in Canada at Cape Spear. A late afternoon excursion gave us puffins and whales. And on a long day trip we explored Trinity and Bonavista.
We didn't see it all. But we had a busy 4 days in St John's.
Wander Around Town
There was much to see when we wandered around St. John's. It was a harbour city and we found waterfront views. High above the town overlooking the harbour we saw Signal Hill.
The Trans-Canada Highway started in St. John's Newfoundland. We visited City Hall and checked out the Mile Zero marker. As we travelled across Canada from Toronto to Vancouver, we found many other markers for this highway. And hit the other end in Victoria, British Columbia.
The Ecclesiastical District National Historic Site showed us a number of interesting churches for different religions within a concentrated area This area was recognized for the influence of the Anglican, Roman Catholic, Methodist/United and Presbyterian denominations in St. John's and Newfoundland. They worked together and established spiritual, philanthropic, charitable and educational institutions during the 19th and 20th centuries.
Check Out The Colourful Houses On Jelly Bean Row
When we reached St. John's we looked for the colourful Jelly Bean Row. We learned that there was not one street that was Jelly Bean Row but this term referred to the entire downtown hillside. It was said that the colourful houses were originally used the help fishermen find their way in the fog. But in the late 1970s the colourful houses took off as a way to brighten the city.
We got our first view of the Jelly Bean houses from a distance when we were high on Signal Hill.
When we walked many streets of the streets in St. John's we found colourful houses side by side. Some were more muted colours. And others reflected the bright colours of jelly beans.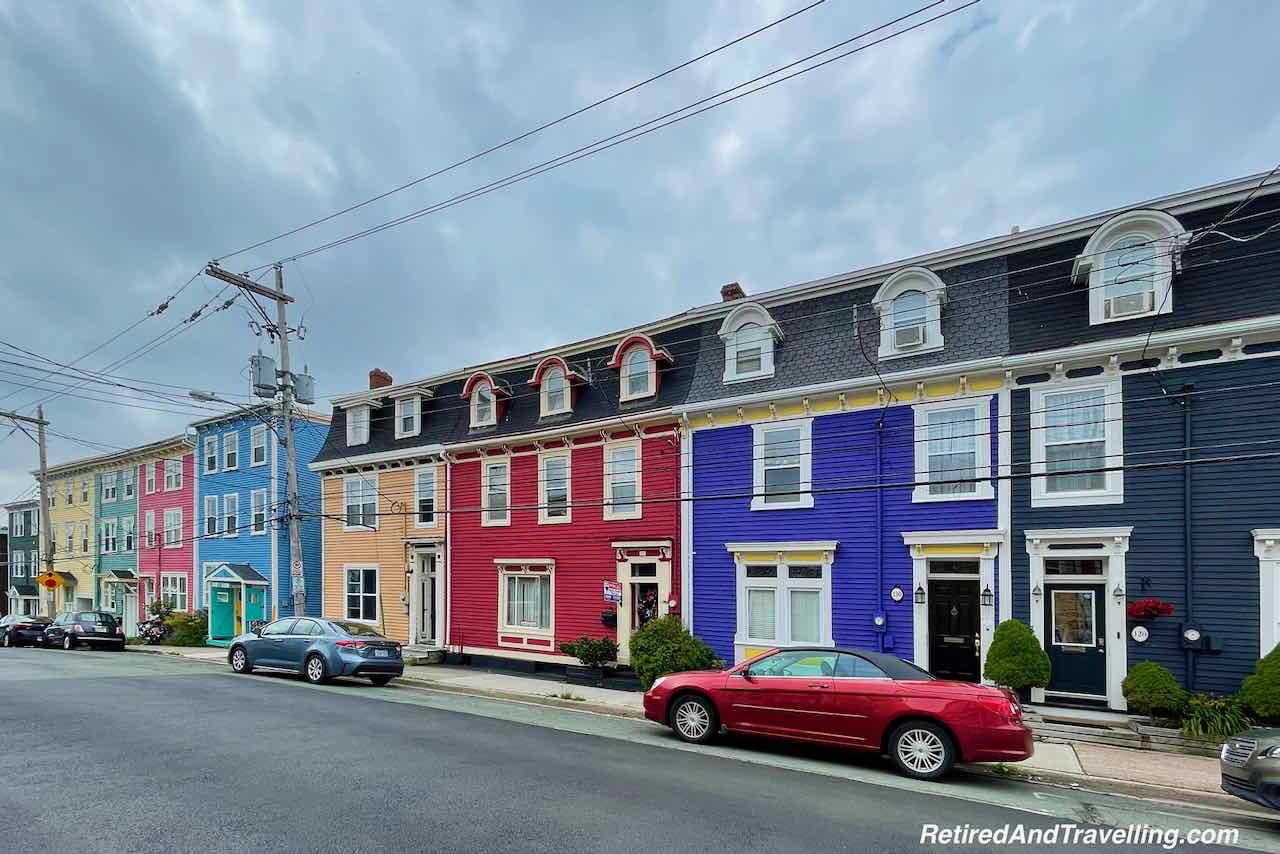 No visit for 4 days in St. John's was complete without seeing dozens of colourful houses. They sure reminded us of the colourful houses we found in the Bo-Kaap area in Cape Town, South Africa.
On

4 Days In St John's

Don't Miss The Street Art
St. John's was a colourful city with its brightly painted houses. But the brightly painted houses also showed up in the street art we found. People decorated their houses with colourful chairs. And even the mailboxes showed off the colourful houses.
As we wandered in the city, we often found colourful murals and interesting statues. The street art in St. John's reflected Newfoundland life, fanciful design and the music of the east coast.
We kept our eyes peeled on our 4 days in St John's. There was always another piece of art to find.
Visit The Most Easterly Point In Canada At Cape Spear
One day we drove just out of St. John's to Cape Spear. As we approached, we saw the lighthouse high on the hill. This was the most easterly point in Canada.
We parked and climbed up to the lighthouse. From there we got a view out to sea and back down to the visitor's centre.
When we walked back down we saw the lower rocky point below the Heritage Lighthouse. And far out at see we got our first view of whales at sea. This teaser sure made us excited for the tour we booked for whales and puffins from Bay Bulls.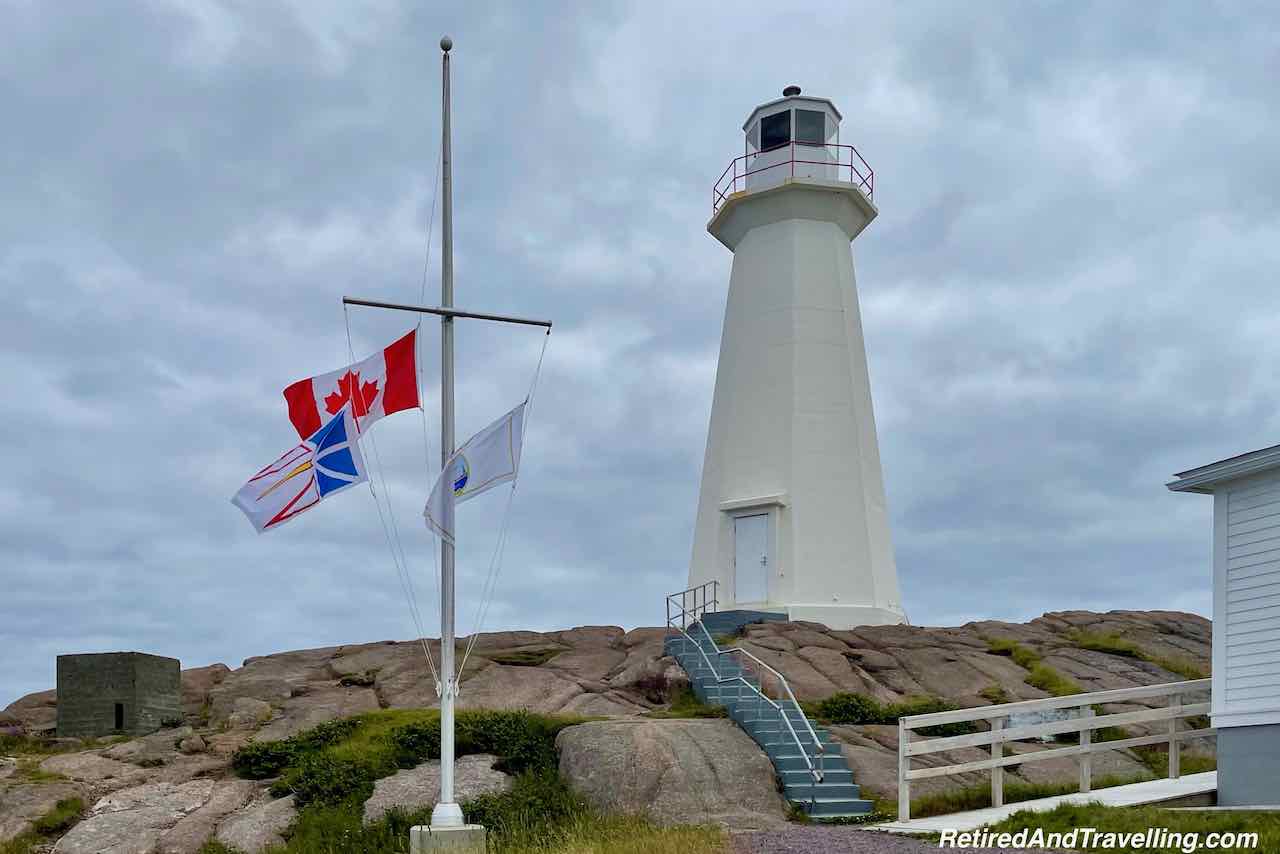 A visit to Cape Spear was an iconic thing to do on 4 days in St. John's.
Head Up On Signal Hill
For a panoramic viewpoint in St. John's we headed up on the Signal Hill National Historic Site. We bypassed the visitor's centre and went right to the top. The batteries protected the mouth of the St. John's harbour from the 17th century to the Second World War. This was also the site where Guglielmo Marconi received the world's first transatlantic wireless signal in 1901.
We went along the walkway and got a great view down over St. John's as the sun set behind the clouds. Down below at the harbour entrance we saw the lighthouse on the point with the light turning.
There were many different hiking paths on Signal Hill. We visited close to sunset so we did not hike around. But on a clear day it was a great spot for a hike with a view.
No visit for 4 days in St. John's was complete without the views from the top of Signal Hill.
Find Puffins And Whales On

4 Days In St John's
On this road trip to Eastern Canada, we did our first whale watching excursion at Tadoussac in Quebec. It was an ok whale watching experience but nowhere close to the amazing trip we had whale watching in Campbell River. But we knew that there were lots of whales off the shores of Newfoundland.
Our initial plan was to go whale watching on our day trip to Trinity and Bonavista. But we got such an amazing treat when we found another option from Bay Bulls.
We booked a last minute whale and puffin watching excursion with with O'Briens Whale & Bird Tours and Gatherall's Boat Tours. The excursion at 5pm got us clear skies and a less crowded boat. And whales that kept us entertained through our entire trip. We sat and the whales came to us. At one time there were maybe 5 around the boat at one time. They rolled, splashed us with spray when they spouted and wagged their tails when they dived.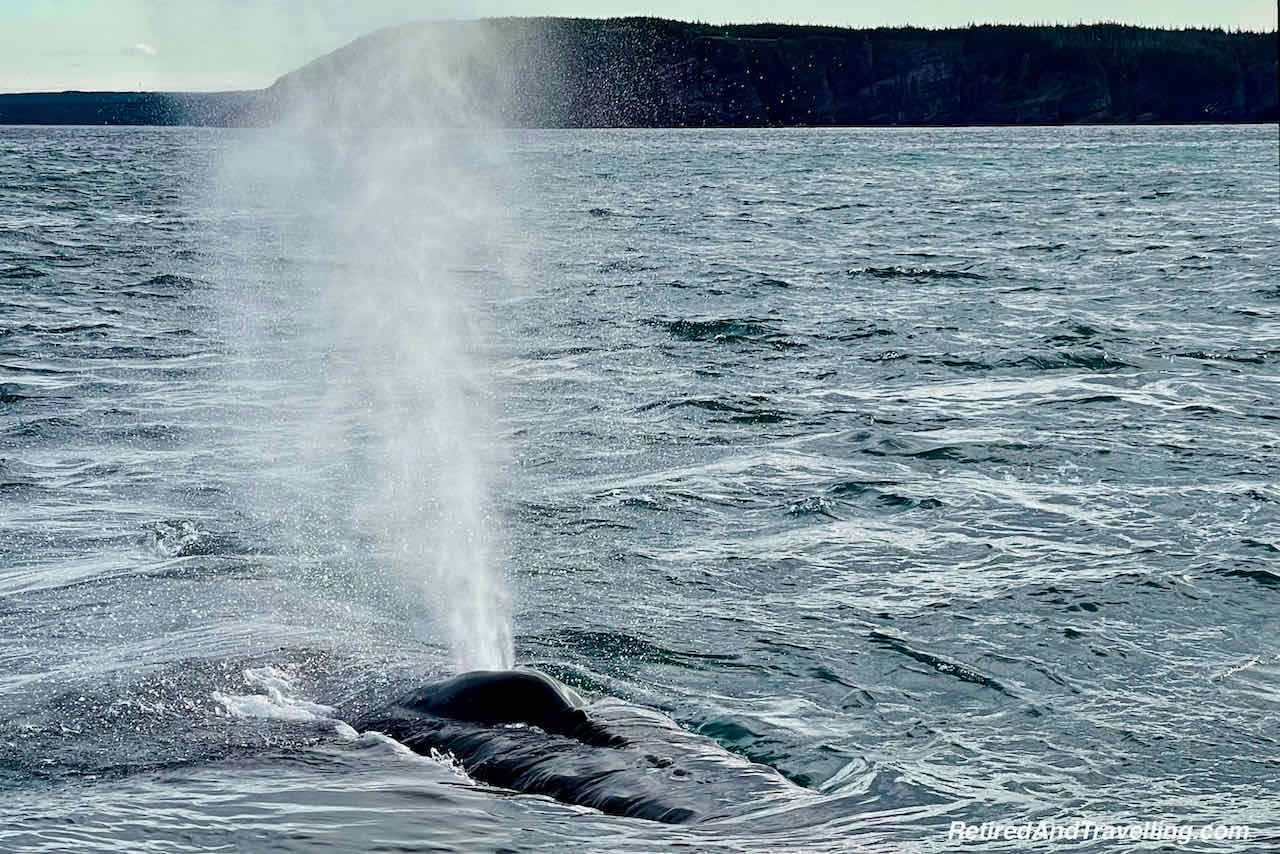 But whales were not the only delight on this trip. We circled Gull Island and saw the birds that covered this island. Higher on the rock we saw puffins. And smiled at their clumsy attempts to fly. Larger common murres and petrols swarmed the lower levels and chased the puffins when they flew.
A puffin and whale watching excursion was a perfect thing to plan on 4 days in St John's Newfoundland.
Do A Day Trip To Trinity And Bonavista
Several people suggested that we needed to visit Trinity and Bonavista on our visit to Newfoundland. When the weather forecast turned good, we headed out for a long day trip to Trinity and Bonavista.
Our first stop in Trinity gave us a good look at this charming small town on the bay. We loved the colourful houses we found. And stopped for a coffee with a view.
The next stop was in the town of Bonavista. We wandered around and got views of the harbour.
From there we drove out to the lighthouse on the Point Bonavista. We climbed the rocks and enjoyed the amazing views out to sea from this spot.
On 4 days in St John's, a road trip to Trinity and Bonavista was a long day trip. But we were glad we did not miss this trip. On a return visit we would definitely plan a few days and explore this area more.
Enjoy A Great Stay In The City
On our road trip around Eastern Canada, we stayed in a wide variety of accommodations. And even spent one night in a cabin on the ferry. When we stayed in the bigger cities, we took advantage of our elite hotel status with Marriott Bonvoy.
In St. John's we booked a King room at the Delta St. John's. Our elite upgrade got us a massive suite with a harbour view. And a big soaking tub for the days we walked a lot! We had the room to spread out that many of the local hotels did not offer.
Our elite status got us free breakfast. So that saved us some food costs. And ensured we had at least one hot meal each day.
The Marriott hotels in the Atlantic provinces offered a great special package when we travelled. The package included self parking and a $25 gas card for each night of stay. With expensive gas in Newfoundland, this helped with some of the travel costs of a road trip.
The gym and pool were open by reservation. Great to add in some exercise. If we did not get it as we toured around.
Tasty Stops Around

St John's
On our road trip to Eastern Canada, we were always on the lookout for fresh seafood. When we found the Fish Exchange in downtown St. John's, it met all our seafood needs. I could not pass on the lobster and shrimp. And David finally got to try Halibut cheeks!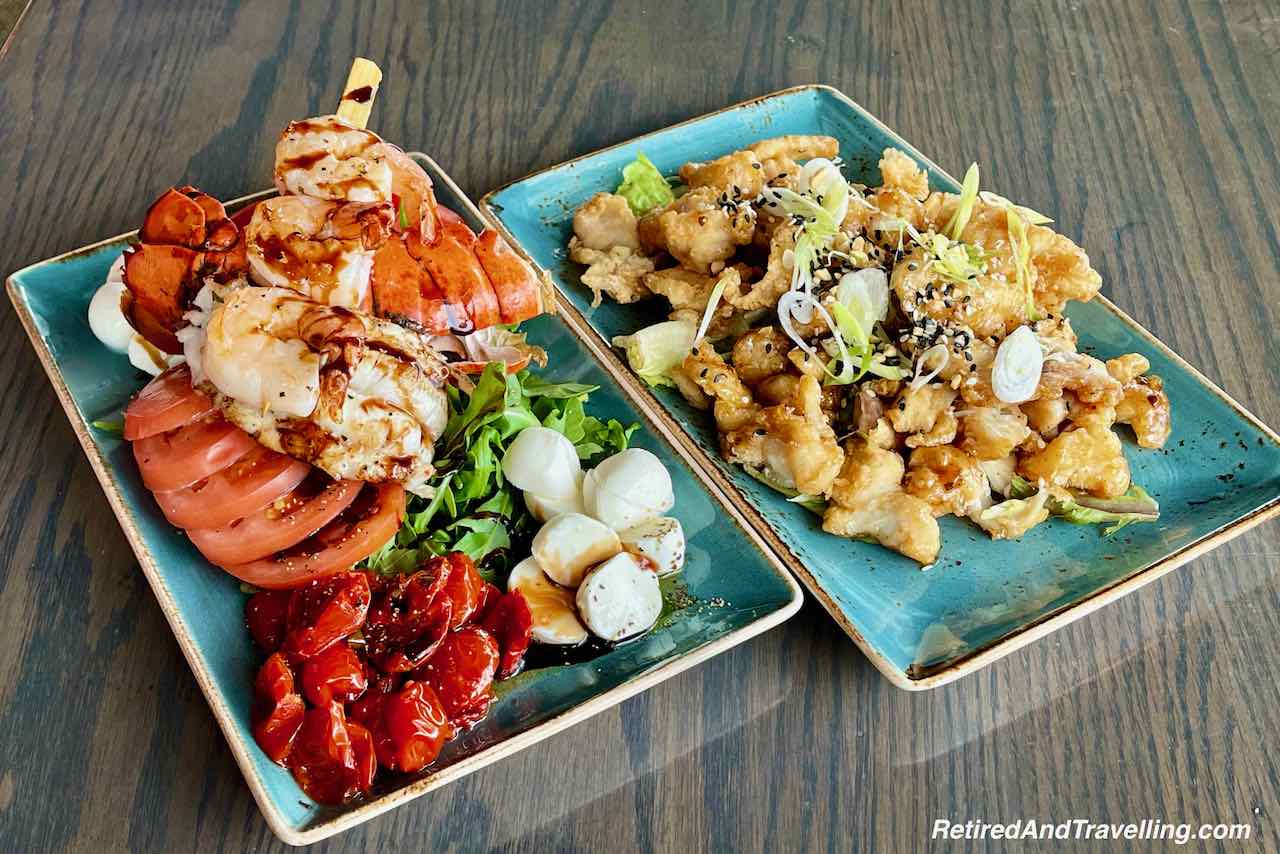 When we wandered along the main street in St. Johns, we found many outdoor patios. And on our wanders, we found a great authentic pizza spot at Piatto Pizza.
And if we wanted a quick snack, we went to the Jag In The Box food truck across from our hotel. We figured the large plate of brussel sprouts were a heathy addition to the burger and fries!
We sure found many tasty stops during our 4 days in St John's.
A Great Stop For

4 Days In St John's Newfoundland
We had a busy 4 days in St John's in Newfoundland on our road trip to Eastern Canada. There was a lot to see and do in the city. But day trips provided fun sights and entertainment.
Our stay was not all busy days either. We found that St John's was generally cloudy for the early part of the day and then cleared in the afternoon. So we were a bit lazy in the morning and headed out later in the day. It was something we did not factor into our road trip planning!
Have you enjoyed 4 days in St. John's? What should we plan to do if we return?
Copyright Notice: All material on this travel blog site is the sole property of RetiredAndTravelling. This includes blog posts, pages, design and all photos (whether watermarked or not). Any use of materials from this site without express written consent will be considered copyright infringement.