An Amazing Eastern Canada Road Trip Experience
We were so glad we saw so much on our amazing Eastern Canada road trip experience. On our drives to and from Atlantic Canada we enjoyed several fun stops in Quebec. New Brunswick road trip stops took us along the shore line. Ferry rides to and from the island were just part of the charm we discovered in Newfoundland. Our first visit to Prince Edward Island (PEI) delighted us. And we enjoyed a wonderful mix of city treats and outdoor delights in Nova Scotia.
When we planned our road trip to Eastern Canada, we knew we needed to book much of the key things in advance. Our schedule was adjusted several times to meet ferry availability. And during our travels we made some changes in our plans when weather made some stops less desirable. But we still experienced far more on our visit to Eastern Canada than we imagined.
Back Road Route In Ontario To Montreal
We left Toronto early in the day on the highway and beat the morning rush hour traffic. But as soon as we cleared the city we headed off on the smaller roads to travel through Ottawa and into Quebec. Getting off the highway was one of the road trip tips we followed that ensured we moved at a slower pace and stopped regularly.
Our first stop was in the small town of Perth Ontario for coffee and a wander in the town. We found lots to see as we strolled around the town for our break. It was a charming little town that deserves a return visit one day.
As we approached Ottawa, we detoured and travelled along the Rideau Canal. Our first stop was at the Beveridges Lock. We loved to visit the locks along the Rideau canal on our day trips in Ontario. We followed the dirt road and enjoyed the quiet and reflections at the Tay Marsh. And stopped to watch the boats go through the locks in Smiths Falls.
Our meandering path through rural Ontario took so much time we decided to bypass Ottawa entirely. We spent many long weekends exploring Ottawa so were not upset to miss it on this trip.
The slow trip through Ontario was a great way to start our Eastern Canada road trip experience. But we needed to make up some time so we got back on the highway and headed for Montreal in Quebec.
A Pampering Stay In Montreal
We loved to visit Montreal for getaways. On a recent visit had such a lovely stay at the Ritz-Carlton Montreal that we planned a return stay to start our Eastern Canada road trip experience with a little pampering. Our short stay in Montreal was a treat for our anniversary.
When we wandered in the city we found great food and art in the streets. We had a lot of fun when we visited Old Montreal. A boat tour along the St Lawrence River gave us a view of this great city from the water.
Montreal was a perfect first stop on our road trip. We loved exploring more of this sophisticated city from a luxury base.
Exploring The Outdoors In The Saguenay Area Of Quebec
After a few days in Montreal we headed towards Quebec City. On this road trip we bypassed Quebec City on the outward path but stopped on our way home. We travelled along the St Lawrence River in Quebec until we hit the Saguenay River and headed north. The views on the Fjord Route along the Saguenay River were a stunning introduction to this great region in Quebec.
We spent 2 nights in the city of Saguenay at the Delta Saguenay Hotel. A day trip around Lac Saint-Jean provided us with many charming road trip stops. We found several spots where we watched the raging rapids in the fast flowing rivers.
Heading back south along the Saguenay River we returned to the St Lawrence River. In the tiny town of Tadoussac we enjoyed a fun day whale watching on the St Lawrence River and saw our first beluga whales. After whale watching we followed the Whale Route east for waterfalls and the ferry across the St Lawrence River.
Our short visit to the Saguenay region in Quebec gave us some early outdoor fun for our Eastern Canada road trip experience.
Travelling Along The Coast In New Brunswick
We travelled through New Brunswick on our way to Sydney in Cape Breton for the ferry to Newfoundland. We enjoyed travelling along the lighthouse route and found great seafood and lovely sights. Stops in Bathurst and Miramichi let us wander in the small towns and explore the local areas.
When we returned from our stay on Prince Edward Island, our one night stop in Moncton at the Delta Beausejour Moncton offered us an amazing luxury stay.
This was a return visit for us to New Brunswick. We added a few new sights in this Atlantic province on our Eastern Canada road trip experience.
Newfoundland Was A Highlight Of Our Eastern Canada Road Trip Experience
This was the first time we visited Newfoundland and were so glad we added this to our Eastern Canada road trip experience – even if it did require a little more planning as a road trip. When we planned our visit to Eastern Canada we started with ferry schedules when we found limited availability. But we enjoyed our ferry trips to and from Newfoundland.
The ferry took us into Newfoundland at Port Aux Basque for a short stay. We then drove for two days with a lunch stop in Cornerbrook and an overnight stay in Grand Falls Windsor. It was interesting to get this view of the small towns in Newfoundland.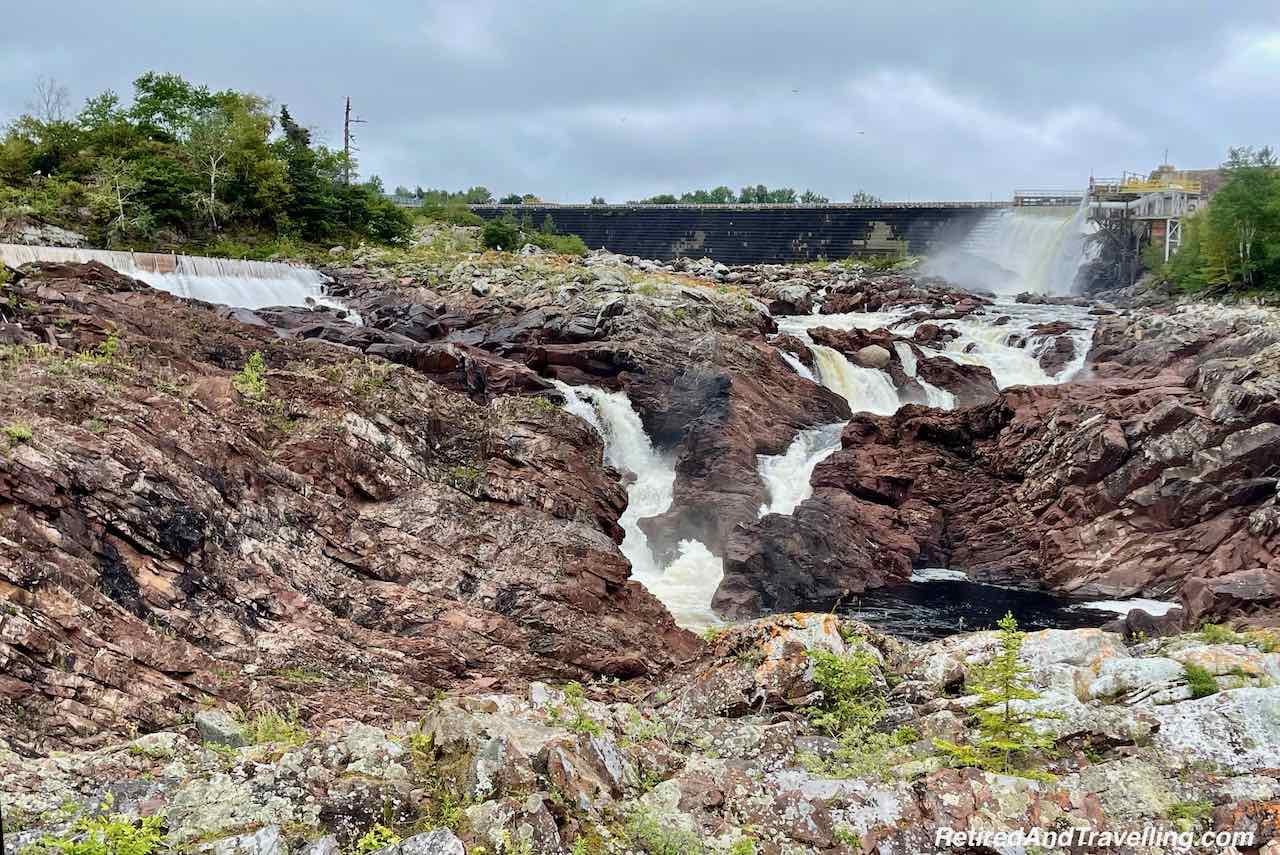 We settled into the Delta St. John's and enjoyed 4 days in St John's. There was so much to see as we wandered in town. We visited the Signal Hill National Historic Site and got a beautiful panoramic view over the city at sunset. There was colourful street art everywhere. And we did not miss the Jelly Bean houses that St. John's was known for.
We enjoyed day trips out of the city for interesting experiences. We went to the furthest east point in Canada at Cape Spear. One day we took a boat tour and got a great show from the puffins and whales in Newfoundland. And on another day we were delighted with a day trip to Trinity and Bonavista.
Our week in Newfoundland was definitely a highlight of our Eastern Canada road trip experience.
A Return Visit To Nova Scotia
We were happy we planned some stops in Nova Scotia. On our first trip to this Maritime province we explored a lot of the small towns and coastal area. On this trip we started our visit to Nova Scotia with a few days in Sydney. We enjoyed this quaint coast town before we got on the ferry from Sydney to Newfoundland.
When we returned to Sydney after our stay in Newfoundland, we were disappointed when the weather caused our drive along the Cabot Trail to be cancelled. We drove in the rain direct to Halifax and settled into the Halifax Marriott Harbourfront on the waterfront path. We found this a great base to explore the waterfront attractions and see the city historic sites.
Our stay in Halifax also provided a great base for day trips. We travelled along the south shore and visited Mahone Bay, wandered around Peggy's Cove and re-visited the port town of Lunenburg.
A day trip to the Ovens Natural Park provided a fun outdoor treat. And we highly recommend taking in the tide swings on the Bay of Fundy.
We found lots to see and do on a short stay in Nova Scotia. It was wonderful to return to this province as part of our Eastern Canada road trip experience.
First Time Visit To Prince Edward Island
We were excited when we planned our Eastern Canada road trip to include a stay on Prince Edward Island (PEI). From Nova Scotia we took a small ferry into PEI. We settled into the Delta Hotels PEI in Charlottetown for a pampering stay in the heart of Charlottetown for our stay. From the hotel it was easy to enjoy the local sights and indulge our love of seafood.
On two day trips we explored the National Parks in PEI. We began at the Dalvay National Park with some time on Stanhope Beach. While the beach at Cavendish Beach was a good draw, the stunning red cliffs were the big attraction for us. Our second day trip took us to Greenwich National Park with its sand dunes and marsh.
We saw many of the iconic spots in PEI as we travelled around the island. When we visited Point Prim we saw a lighthouse, ate tasty seafood and enjoyed a colourful treat at Hannah's Bottle Village.
We had a busy stay on Prince Edward Island and were truly charmed. We made some awesome memories in PEI as part of our Eastern Canada road trip experience. When we left PEI we took the route along the Confederation Bridge and returned to New Brunswick.
A Short Stop In Quebec City
When we planned our visit to Atlantic Canada, we had several days on the itinerary to visit the Gaspe area in Quebec. But grey skies and rain made us change our plans and re-routed us home to Toronto. But we still needed a stop to break up the driving. So we planned one last road trip stop in Quebec in Quebec City.
We arrived late on a Saturday. We knew that a mid-weekend hotel check-in was a recipe for disaster. And we were sadly not proven wrong. Even with our Marriott Ambassador Elite status, we did not get an upgrade and we did not even get the room we booked. It was good we were only in for a quick stop. But the benefit of being in downtown Quebec City was the easy availability of good food.
We checked out very early and headed to the Montmorency Falls just outside of Quebec City. Our early arrival let us enjoy all that this park had to offer.
We enjoyed a relaxing break wandering the park and watching the waterfall. And then we got on the road for a long last drive on our Eastern Canada road trip experience.
So Many Great Stops On Our Eastern Canada Road Trip Experience
We planned an aggressive and comprehensive itinerary for our Eastern Canada road trip experience. But the up-front planning ensured we had an amazing trip as we travelled through Quebec and the Atlantic provinces in Canada. We saw so many iconic sights, had the best seafood, stopped for pampering stays and thoroughly enjoyed the sights. We visited new Canadian provinces and returned to some favourites.
Along the way we added a few points to our road trip tips list. Which came in handy when we got back in the car when we got home and headed for another road trip to Western Canada.
Have you had a great Eastern Canada road trip experience? Is there something we missed that we need to plan for a return visit?
Copyright Notice: All material on this travel blog site is the sole property of RetiredAndTravelling. This includes blog posts, pages, design and all photos (whether watermarked or not). Any use of materials from this site without express written consent will be considered copyright infringement.