Many Great Stops On Our Road Trip From Toronto To Vancouver
Our fall trip to Western Canada started with a long road trip from Toronto to Vancouver. We had many interesting stops along the way.
We did the trip between Toronto and Vancouver before. On our first trip we travelled through the U.S.A. in the late summer. And returned on a similar route as winter set in.
On this trip west, we planned our travel through the Canadian provinces – Ontario, Manitoba, Saskatchewan, Alberta and British Columbia (BC). We did a mix of one and two night stops until we arrived for our extended stay in BC. Our road trip from Toronto to Vancouver by the numbers:
Days: 10
Stops: 3 one night, 3 for two nights
Distance: 4,500 km (~2,800 miles)
Hours Travelled: 62 hours (includes driving and stops along the way)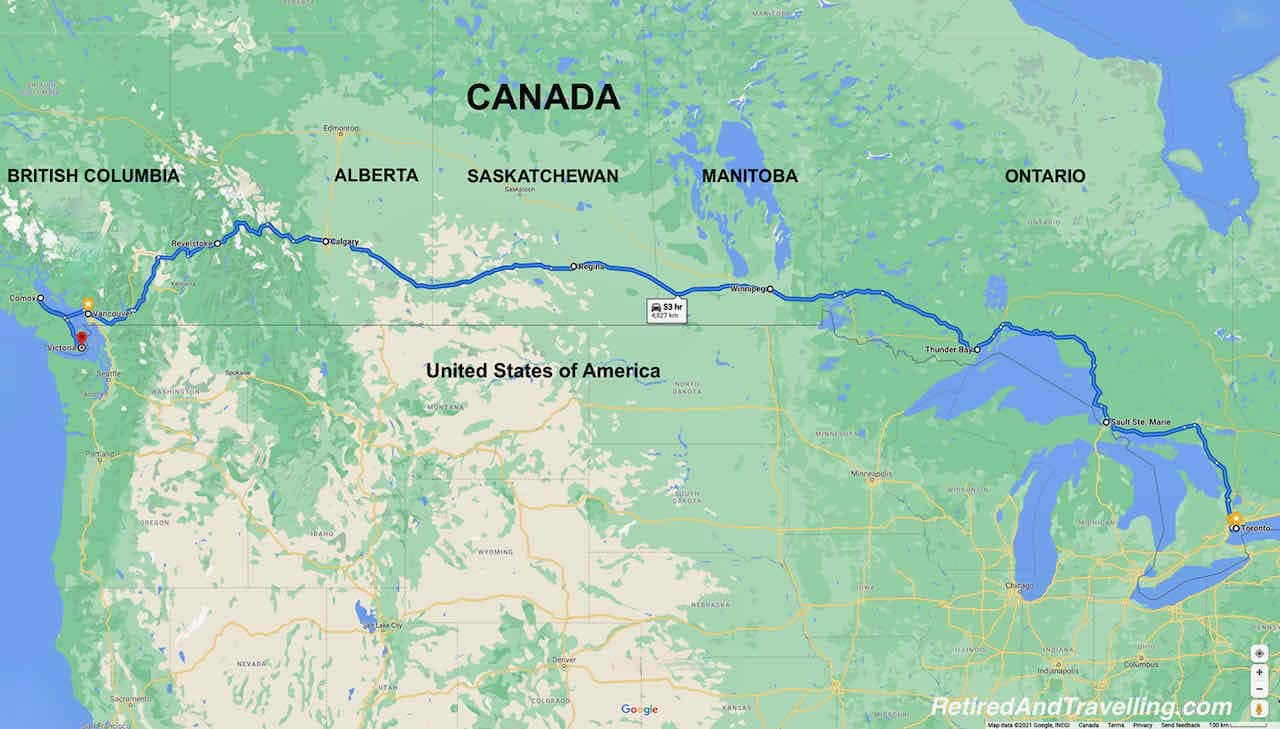 We Started Our Road Trip Through Northern Ontario
The alarm went off at 5am. So we were on the road by 6am and escaped the Toronto rush hour traffic. We had our first break when we were well out of the city.
The forecast for our stay in Sault Ste Marie was rain and thunder storms. On our first visit to Sault Ste Marie, we drove through blinding rain for much of the drive. And did not want a repeat adventure. So all of our stops along the way were quick ones.
While we hit some rain on the drive north, we arrived at the Delta Sault Ste Marie earlier than planned. And even managed a walk along the waterfront before rain came again. We knew when we planned just a one night stop that we would not do much exploring.
Not every stop on our road trip from Toronto to Vancouver was a fun one.
The Waterfall Route Out Of Ontario
It was another early start the next day. We planned an 8 hour drive and several waterfalls stop along the way to Thunder Bay. On our first visit to the Sault Ste Marie area, we enjoyed several of the waterfalls close by.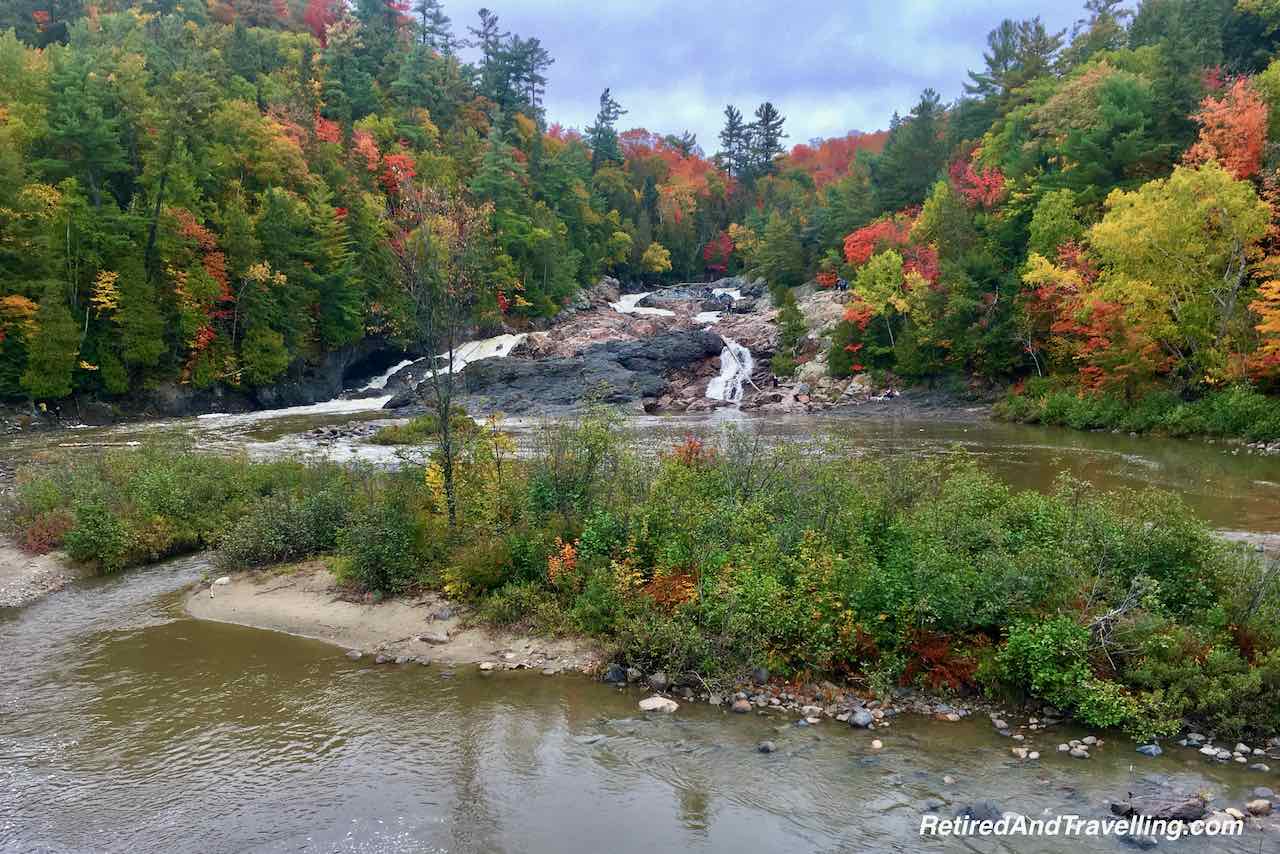 On this trip, our first waterfall stop was along the Magpie River in Wawa. We saw Silver Falls from the hiking path. And then wandered along the shore for another view of the lower falls.
Our research showed us the spot to park to view the Mink Falls. This local spot was not easy to find. But we were glad we did our research before we arrived.
Our final waterfall stop on the way to Thunder Bay was at the Aguasabon Gorge and Falls. We walked to the viewpoint and got a view from above of this steep canyon.
We were so glad we planned the waterfall route from Toronto to Thunder Bay. So many great outdoor spots along the way. We were sure that these stops would be even more spectacular with fall colours. But heading out on our road trip from Toronto to Vancouver, we were still a bit early for fall colours in Ontario. But we sure got some great fall colour displays on our travels when we explored BC in the fall!
A Great One Night Stop In Thunder Bay
We planned only one night stops on the three day trip out of Ontario. When we checked into the Delta Thunder Bay and got a large suite that overlooked Lake Superior, we wished we planned a longer stay on our road trip from Toronto to Vancouver. This was the first of many great sweet suite upgrades our loyalty status got us on this trip.
With a late arrival and early departure, we enjoyed the hotel and the great restaurant on-site. It was a lovely rest from being on the road.
But we never explored the area around Thunder Bay. It was a good nudge to plan a longer stay on our return trip from Western Canada.
A Short Stop In Winnipeg
The next day we finally left Ontario and arrived in Manitoba. Winnipeg was the first of our two night stops. We enjoyed our upgraded suite at the Delta Winnipeg. But we had a full day planned for our short stop in Winnipeg.
We wandered to the Manitoba Legislature Building and enjoyed the sights along the way.
From there we followed the walking path along the Assiniboine River to The Forks in Winnipeg. We found a large area with food markets, walking paths and much to see.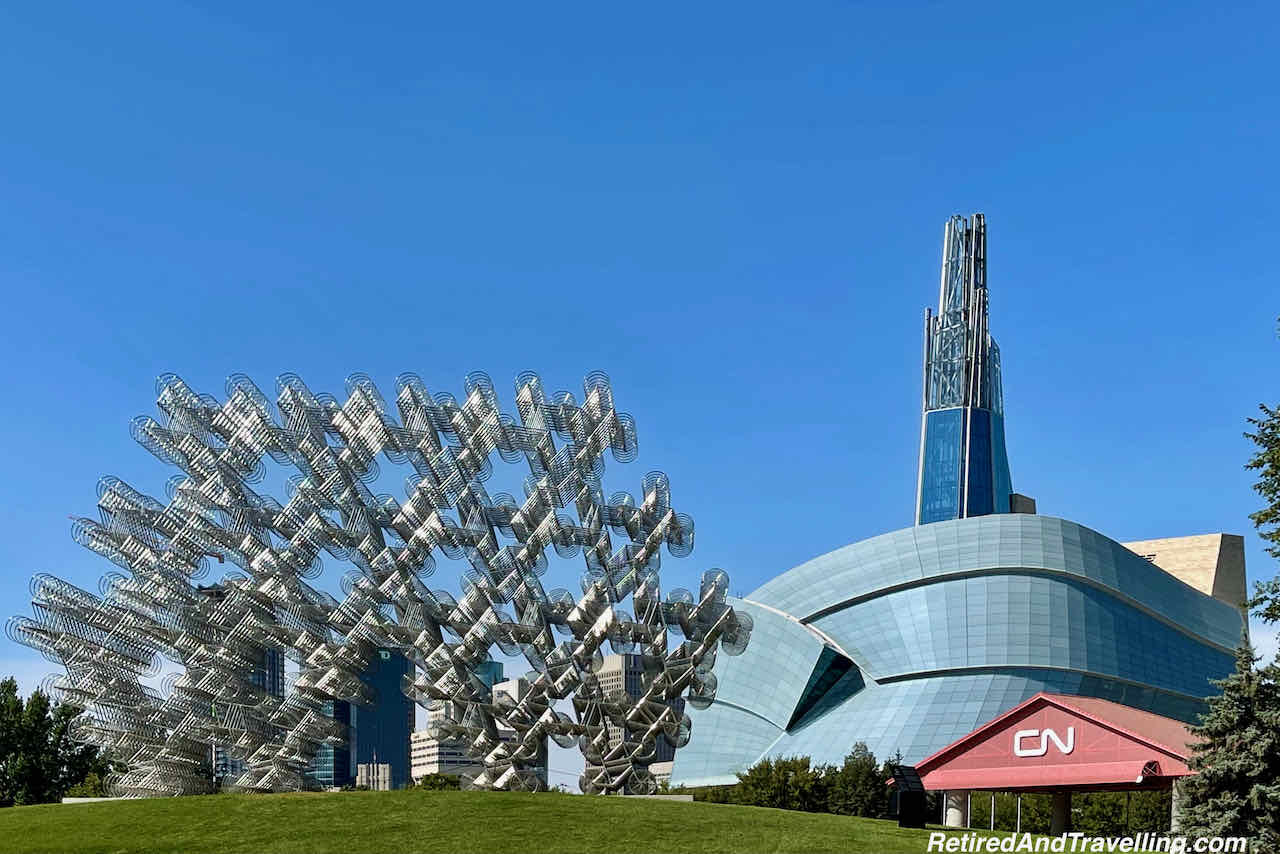 We got a quick view of the sights on our short stop in Winnipeg. Although we did miss out on enjoying the vast open spaces at the Assiniboine Park,
A Luxury Break In Regina
We planned another two nights stop in Regina in the next province of Saskatchewan. We had a couple of options for accommodations but chose the elegant Hotel Saskatchewan. There was little planned for our luxury stop in Regina. We fully intended to enjoy the upgraded suite and beautiful hotel.
But when the sun came out, we headed off and explored a little of Regina. We headed for Wascana Lake and the Saskatchewan Legislative Building. The Queen Elizabeth gardens and the various statues decorated the space.
Green spaces and gardens in bloom greeted us as we wandered along the path by the lake. Statues and even a totem pole gave us stops along the path.
When we wandered around Regina, we were delighted when we found such an interesting display of street art and murals.
We had a great road trip break in Regina and left refreshed.
First Mountain View On Road Trip From Toronto To Vancouver
We left Regina and the path continued west on our road trip from Toronto to Vancouver. The flat plains changed to rolling hills and oil rigs appeared in the fields with the cattle.
We arrived on the outskirts of Calgary and stopped for one night at the Element Calgary Airport. There was a steak house on the property. So of course we had Alberta beef for dinner.
It was a quick trip through Calgary and into the Rocky Mountains. The sun shone on the great mountain views. Banff was our coffee stop. Everywhere we looked the town was ringed with mountain views. A short walk worked out the driving kinks before we headed back on the road.
The mountain scenery drew us forward on our road trip from Toronto to Vancouver.
A Great Outdoor Stop In Revelstoke
The mountain views and bright sunshine continued until we crossed the border into British Columbia. By the time we went through the Rogers Pass, clouds started to gather.
Our 2 night hotel stop at the Fairfield Inn and Suites in Revelstoke gave us a great view of Mt Revelstoke. When the weather cleared, we headed up to the summit of Mt Revelstoke. We got amazing views at the lower viewpoints. And then ran into a snowstorm as we climbed.
We waited out the snow and went for a walk to the summit with snow on the ground. Our persistence was rewarded with great views. And when the sun set, we got an even better show.
The mountain views in Revelstoke were stunning. We were so glad we headed high to the summit of Mt Revelstoke and got that different perspective.
Revelstoke Waterfalls On Road Trip From Toronto To Vancouver
We had four waterfalls sights on our list of things to see in Revelstoke. Advance research provided us with maps and some idea of where to find the waterfalls around Revelstoke. Not all of them were well marked.
First we headed towards the Revelstoke Dam. We watched for a small dirt road and found the Moses Creek Falls. We were glad we had our SUV for the drive down the dirt road.
Next we headed back south towards Blanket Creek Provincial Park. We drove down through the park and found a sign that got us to the Sutherland Falls.
The last waterfall on our plans for the day was at Begbie Falls. We found the hiking path and set off for many different views of these waterfalls.
We missed the chance to visit the Akolkolex Falls on our tour of the waterfalls in the Revelstoke area. It would be a new treat if we went back to Revelstoke.
Checking out waterfalls was something we did a lot of on our road trip from Toronto to Vancouver.
Heading Into Vancouver
We were not yet finished with waterfalls. When we passed by Bridal Veil Falls on our drive into Vancouver, we did not resist the chance to see yet one more waterfall.
As we drove through British Columbia, we got more great mountain views in all directions. Gradually they got rounder and lower. By the time we hit the Fraser River Valley, we were finally back down to sea level.
But as we approached Vancouver, the peaks along the coast appeared. And we even saw Mount Baker in the U.S. at a distance.
On the back end of our road trip from Toronto to Vancouver, we got so many amazing mountain views.
Finishing Our Road Trip From Toronto To Vancouver
It was a long drive from Revelstoke with stops along the way. But we finally arrived at our AirBnb in Port Moody outside of Vancouver.
Port Moody was the first of many stops on our extended visit in BC. We had a mix of places planned – enjoying the False Creek area, North to Whistler on mainland BC, over to the Sunshine Coast and from north to south on Vancouver Island. And we were excited when we began our explorations.
Have you done a road trip from Toronto to Vancouver? What did you discover along the route?
Copyright Notice: All material on this travel blog site is the sole property of RetiredAndTravelling. This includes blog posts, pages, design and all photos (whether watermarked or not). Any use of materials from this site without express written consent will be considered copyright infringement.